Economy Trailers
Economy Trailers Trailer
Rugged fuel transportation at a great value.
Specifications
500 Gallons | Model #EV500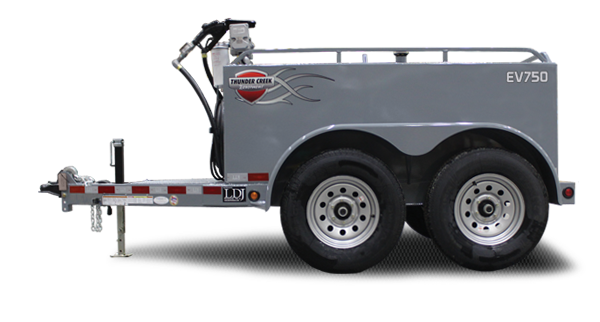 750 Gallons | Model #EV750
990 Gallons | Model #EV990
Features and Options
Trailer Features
Trailer Features
Electric Brakes with Breakaway Safety System
16" 10-Ply Tires with Steel Wheels
7,000 lb. Jack and Safety Tow Chains
Adjustable Height 2 5/16" Ball Hitch
Reflective Tape and LED Lights
Wiring Junction Box
Conduit Wrapped Wiring
DOT Safety Placards
Dual Coat Polyurethane Paint
Tank Features
Tank Features
7 Gauge Steel Tank on 750 & 990 Gallon Models
10 Gauge Steel Tank on 500 Gallon Models
Double Welded Seams
Full Height Offset Baffles
Locking, Vented Fuel Cap
Tank Vent
Fuel Level Gauge
6" Drop Sump with 1/2" Drain Plug
Pumping Features
Pump Features
25 GPM Industrial Grade 12V Pump
Auto-Trip Nozzle
10 Micron Fuel Filter
Fuel Meter
Fuel Meter
Field Installable
Digital flow meter for the 25 GPM electric pumps. Mounted in line with swivel.
Battery Kit
Battery Kit
Field Installable
Power the diesel and DEF pumps with the battery kit when a vehicle connection is not available.
Solar Battery Maintainer
Solar Battery Maintainer
Field Installable
A 30 watt photovoltaic solar panel mounted to the top of the trailer enables you to maintain the battery's charge without a truck connection. Controller included.
Aluminum Wheels
Aluminum Wheels
Upgrade the standard steel wheels to aluminum. Available with either 6- or 8-bolt hubs depending on the trailer.
Field Max Tires
Field Max Tires
These 16", 10-ply 285-series tires have a 20% wider profile than the standard 235-series tires. This provides less compaction in off-road environments. Rated for 3,700 lbs.
Spare Tire Kit
Spare Tire Kit
Field Installable
Mount a spare tire with cover on the top of the fuel tank. Available in Standard or Field Max Tires.
Custom Color
Custom Color
The standard trailer is finished with a dual coat of grey polyurethane paint. Custom color options include white, black, tractor red, tractor green, tractor blue, tractor yellow and construction yellow.
Rock Guard Kit
Rock Guard Kit
Field Installable
Add diamond plate rock guard to protect fenders and the front of the tank.